Sound Bath + Restorative Yoga
February 1 at 7:30 – 8:45PM
$25.00 (plus tax)
Restore your mind, body, and soul
through gentle yoga poses and the
healing powers of sound vibrations.
Led by Erica Whitaker & Lori Miller-Price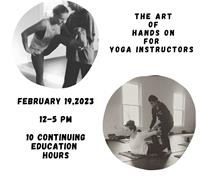 February 18, 12:00 pm -5:00 pm
$100 tuition
10 Continuing Education Hours
The Art of Hands on for Yoga Teachers:
This course will cover the art of placing hands on students in a safe and effective way. Learn techniques and methodology of hands-on adjustments for the physical and subtle body. Students will have training and practice time, with opportunities to both give and receive adjustments. This course will answer the question of "why put hands on." Additionally, participants will learn active and passive adjustments, adjusting during flow, and subtle body and environmental adjustments. This course includes the skills and techniques involved in Yin & restorative adjustments and savasana assists. This course is intended to build confidence through experience and cultivation of tools to expand a yoga instructor's abilities.
Topics Covered
Ethics/ Code of Conduct
Personal experience
The "why" for giving adjustments
Advanced techniques for administering adjustments
Active and passive adjustments
Adjusting during flow
Savasana assists
Yin & restorative adjustments and assists
Subtle body and environmental adjustments
Safety for student and teacher
You Will Gain:
More confidence in yourself and your abilities
A greater understanding of body mechanics for your student and yourself
An expanded toolbox
New ways to share your authentic expression to add value to your classes
An ability to offer adjustments in a flow, restorative, and yin practices